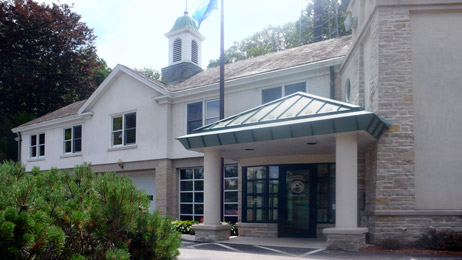 Village Hall, Photo by Lauren Hanaman
Power Outage
In the event of a power outage, please contact We Energies.
Call We Energies at 800-662-4797.
Protect food from spoiling by keeping freezer and refrigerator doors closed as much as possible. Food stays frozen up to 48 hours if the door is not opened frequently.
Follow manufacturers' directions for safe operation of generators.
Use manual operation of electric garage doors.
Keep doors, windows and drapes closed to prevent heat loss in cool weather. Gas furnaces have electric blowers that do not work during an outage.
Switch on a light that can be seen from the street if you leave your home. Our crews often look for lights when checking neighborhoods.
Stay out of a flooded basement. It can be dangerous if power is restored.
Stay away from any power line that is down — and anything touching it. Call We Energies at 800-662-4797 to report it.