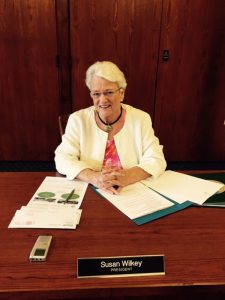 It is with deep sadness that we share the news of the passing of Susan Wilkey. Susan was the Village President for the Village of Chenequa up until the time of her passing. Susan served on many boards and committees for many causes she held close to her heart, along with the Village of Chenequa. She will certainly be missed greatly by all of the staff. We would like to thank her for many years of service, leadership, dedication, generosity and above all just being Susan.
Visitation is Wednesday, October 3rd at St. Charles Catholic Church in Hartland from 10:00 a.m. until 12:00 p.m. Services start at 12:00 p.m. followed by a reception at the Chenequa Country Club.
Evert-Luko Funeral Home in Hartland is managing all the arrangements.
Village Board President                                           April 2015 to present
Village Board Trustee                                              April 2006 to April 2014
Plan Commission Member                                      April 2007 to April 2015
Plan Commission Chair                                           April 2015 to April 2017
Lake Country Fire and Rescue Consolidation         2008 to 2010
Lake Country Fire and Rescue Board                     2009 to 2015
Hwy 83 Task Force                                                  2003 to 2018
Board of Review Member                                        2006 to 2018
Election Inspector                                                    1991 to 2015
To view her full obituary, please Evert-Luko Funeral Home website.